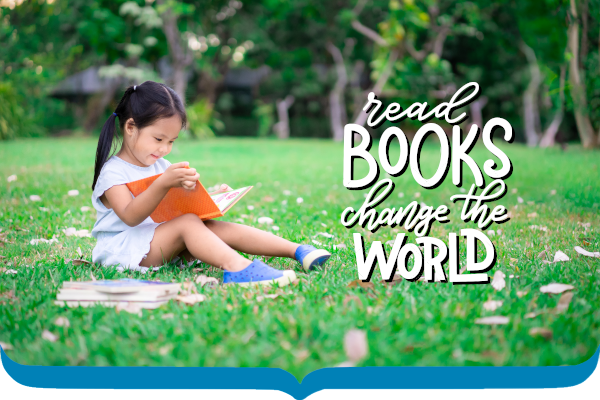 Welcome spring with beautiful books and poetry! This month, flowers are blooming, birds are singing, and the sun is shining. April also marks National Poetry Month, and there are numerous opportunities to create magical memories with the young readers in your life by carving out time to read spring-themed books and poetry together. Check out these fun books and reading activities to celebrate the season!

April is National Poetry Month
April is National Poetry Month! It's never too early to introduce even the youngest readers to poetry. Writing and reading poetry aloud can be a wonderful experience for children, exposing them to the patterns and rhythms of language. Encourage the young reader in your life to read a poem from our National Poetry Month Collection or write a poem of their own every day during the month of April!
*These are suggested titles with resources in Literacy Central and may not be available in the RIF Bookstore as our inventory is subject to change.

Thank You for Attending RIF's Family Literacy Night
Last month, RIF hosted a virtual family literacy night for over 400 parents and caregivers. During the event, RIF staff shared a short overview of the current literacy crisis in America, hightlighted why reading aloud to your children is important, and shared some important tips and activities to incorporate into daily routines to insipire reading all year long. The event ended with a special bedtime read-aloud demonstrating some of the tips shared throughout the night. In case you missed it, here is a link to RIF's virtual family literacy night presentation.

RIF Supports the AAPI Community
With the recent wave of anti-Asian violence, RIF wants to remind our community of the importance of diverse books for healing and understanding. Please take a look at these resources and other ways to support the Asian American and Pacific Islander (AAPI) community by harnessing the power of reading to encourage honest, sensitive discussions about race, justice, and inclusion to drive systemic change.

LeVar Burton and LA LOOP Give Back
Good News: RIF, LA LOOP and LeVar Burton are giving even more books to kids this month! We kicked off our partnership in March for National Reading Month and now it's been extended throughout the month of April. This month, LeVar is continuing to donate 100% of his proceeds from the LeVar Burton Signature Series LA LOOP to support RIF. PLUS, LA LOOP will be donating 3 books to RIF for every purchase of the product. We are tremendously grateful for this generosity and inspired by their commitment to RIF's mission. Learn more on how you can get involved.


Drop Everything and Read with RIF
April 12 is National Drop Everything and Read Day. Join us this D.E.A.R. Day and commit to read for 30 minutes. We encourage you to make this a special day by reading with a friend, family member, or child. Will you pledge a love of reading today?


University of Arkansas Students Start First Collegiate Chapter of RIF
Four seniors started the first formal collegiate chapter of RIF at the University of Arkansas in January 2021 to encourage college students to use their education and resources to benefit the next generation of learners. Stephanie Barber, President and Founder, says "We believe literacy is the key to an educated and well-rounded society, and we want to be a part of ensuring that children in Northwest Arkansas learn to love reading." This semester, the members are raising money to donate a RIF Read for Success program kit to a local elementary school.

Tell Us Your Story
We see the positive impact of Reading Is Fundamental through the stories you provide and we love to hear from you. We want to hear how RIF has impacted you or a child in your life. Please email your story and photos to us. Thank you in advance for sharing!


Reading Is Fundamental is proud to partner with Macy's. To regularly receive these communications, please sign up on Literacy Central and be added to our list!
Share us on your social media platforms!