As the summer winds down and children prepare to go back to school after a challenging year, RIF wants to make sure families, educators, and young readers have the resources and tools they need for a successful academic year. RIF is committed to providing the RIF community with book recommendations, resources, and activities to engage and motivate young readers. Check out RIF's resources and upcoming exciting initiatives all designed to support the needs of educators, families, and children as we begin the new school year.

RIF's Social and Emotional Learning (SEL) Resources for Returning to School
With many schools on track to reopen this fall, children might face a number of difficulties adjusting to being back in the classroom. Explore RIF's specifically curated SEL resources and activities for back-to-school to address anxiety, tackle learning loss, and much more.
Explore RIF's SEL Center for book recommendations and book-based activities exploring feelings, friendship, fairness, and focus to help children better understand themselves and the world around them.
Check out National PTA's Social Emotional Learning (SEL) Collection with titles that share stories and lessons as children understand and manage emotions, feel and show empathy, and explore relationships and decision-making.
Nurture your child's understanding with a diverse and expansive collection of books in RIF's Skybrary, in which children can see characters and themes that reflect their identities and experiences. Log in or start your free trial today!


RIF Launching Rally to Read 100
RIF is excited to announce our Rally to Read 100 initiative in celebration of RIF's 100 million children served since our founding in 1966. This 6-month iniative launches on September 1, 2021 and will culminate on March 2, 2022 with a reading celebration online event on Read Across America Day. Each month will feature a reading theme, notable author and illustrator read-alouds, book lists, reading activities, and more to engage and motivate our nation's young readers. There will also be a chance for educators to win on behalf of their school or organization 100 new, diverse books. Look out for more details soon and get ready to rally the young readers in your life with RIF's Rally to Read 100!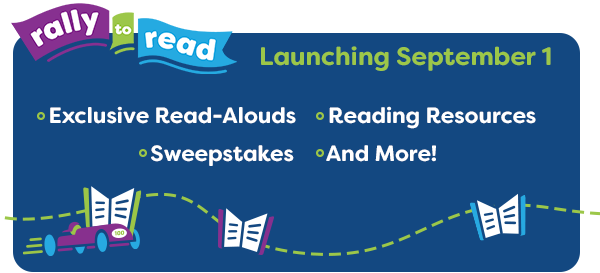 Macy's Gives Back to Children's Literacy
RIF is thrilled to be part of the Macy's Gives campaign which supports charitable organizations like RIF. This year's campaign marks an exciting 18-year partnership where together, RIF and Macy's have raised over $43.8 million and distributed over 14 million books to young readers in local communities nationwide. As we kick off this year's partnership, we invite you to shop at Macy's in stores or online throughout August and your purchase can ensure every child has the opportunity to own books, learn how to read, and obtain the fundamental building blocks to achieve their highest potential.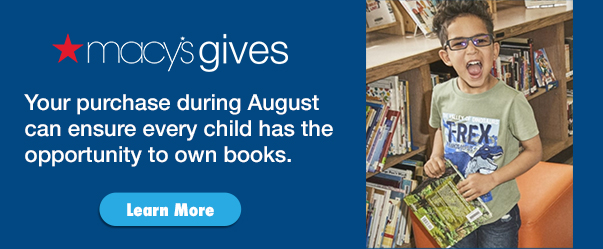 Catch Up with RIF's Latest Blogs
Macy's and RIF celebrate the 18th year of a long-standing partnership in a special campaign. Learn more in RIF's newest blog post by Alicia Levi, President & CEO.

LeVar Burton Choses RIF as Charity of Choice
RIF would like to personally thank our dear friend and literacy champion, LeVar Burton, for choosing RIF as his charity of choice last week as guest host on Jeopardy! All earnings on the show last week were matched by Jeopardy! in a generous donation to RIF. LeVar Burton raised more than $204,000 to help RIF get books and resources to children across the nation. And because of supporters like you, we've raised an additional $5,000 so RIF will be able to reach even more children with books in the coming months.


Learn about Ending Book Deserts
If you are concerned about book access and equity, we encourage you to register for the 2021 End Book Deserts Virtual Conference on August 8 and August 9. There will be a variety of speakers including literacy advocates, non-profit organizations, book banks, researchers and others involved in work around book access. Be sure to check out the session by RIF's President & CEO, Alicia Levi, on August 9 at 4:00pm: RIF's Integrated Approach to Literacy.

Thank You, RIF Supporters!
Thanks to our wonderful supporters, RIF has delivered thousands of books to children this summer. RIF believes that every child deserves an opportunity to own books, learn how to read, and obtain the fundamental building blocks to achieve their highest potential. By donating today, you ensure that a child is prepared for the upcoming school year.

Tell Us Your Story
We see the positive impact of Reading Is Fundamental through the stories you provide and we love to hear from you. We want to hear how RIF has impacted you or a child in your life. Please email your story and photos to us. Thank you in advance for sharing!


Reading Is Fundamental is proud to partner with Macy's. To regularly receive these communications, please sign up on Literacy Central and be added to our list!
Share us on your social media platforms!