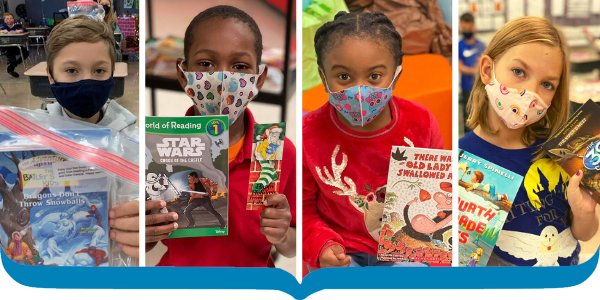 Spread the love of reading in February! This month is full of fun themes and important occasions to celebrate a love of reading. From Black History Month and Chinese New Year to World Read-Aloud Day and Valentine's Day, join RIF this month with engaging read-alouds, book suggestions, and fun new ways to support RIF.

Celebrate Black History Month
Celebrate Black History Month with titles and reading activities that highlight the wide spectrum of contributions that have been made by Black Americans. Read about Black pioneers, inventors, athletes, and other prominent historic figures in RIF's Black History Month Collection in Literacy Central.
In addition, RIF will be showcasing read-aloud videos on our social media channels all month long. Join us every Monday through Thursday at Noon EDT online to enjoy powerful and engaging stories to celebrate Black History Month!

*These are suggested titles with resources in Literacy Central and may not be available in the RIF Bookstore as our inventory is subject to change.

Catch Up with RIF's Latest Blogs
At RIF, we believe there is no better way to honor Black History Month than though the power of books. Read our latest blog post from RIF President & CEO, Alicia Levi, to learn more and join us in honoring Black History Month.
This winter, RIF partnered with the Harry Potter Alliance (HPA) to host a national book drive to spread the magic of books. Read more about this partnership and the hundreds of books delivered to one of our Washington, D.C. RIF schools in a guest blog by HPA volunteer, Jessica Rozycki.

Kids Like Me Book Drive
Inspired by the Martin Luther King, Jr. Day of Service, RIF volunteer Dina Ruden organized a virtual book drive named Kids Like Me in conjuction with the Presidential Inaugural Committee (PIC). She writes, "To honor Dr. King, I decided to focus the drive on books that celebrate diversity, equity and inclusion. Through the PIC volunteers and my own social media channels, I shared messages and videos to encourage people to donate and then share the titles of the books that they selected. The response was phenomenal."
RIF received hundreds of books from our Amazon Wish List because of Ms. Ruden's book drive. We'd like to personally thank her for all of her hard work and dedication to RIF's mission in getting diverse books in the hands of children. You can host your own book drive to support RIF. Read on to learn more!


Get Involved with RIF
RIF programs are a success because of the many volunteers that make them possible. Just like Ms. Ruden who hosted her own virtual book drive using RIF's Amazon Wist List, you can contribute virtually to RIF's mission in getting books in the hands of children nationwide. Check out our Virtual Volunteerism Guide for ideas or email us at LiteracyNetwork@RIF.org for tips on how to host your own virtual book drive.

Beloved Books and Activities for Valentine's Day
Share your book joy with the young reader in your life this Valentine's Day with these suggested books and reading activities filled with sweet stories about friendship, kindness, and love.


Spread the Love of Reading
Roses are red, violets are blue, support RIF with a gift and help kids read, too! 25 million children in the US cannot read proficiently, but the literacy crisis is a problem we can solve. Donate to RIF to create change.

Tell Us Your Story
We see the positive impact of Reading Is Fundamental through the stories you provide and we love to hear from you. We want to hear how RIF has impacted you or a child in your life. Please email your story and photos to us. Thank you in advance for sharing!


Reading Is Fundamental is proud to partner with Macy's. To regularly receive these communications, please sign up on Literacy Central and be added to our list!
Share us on your social media platforms!