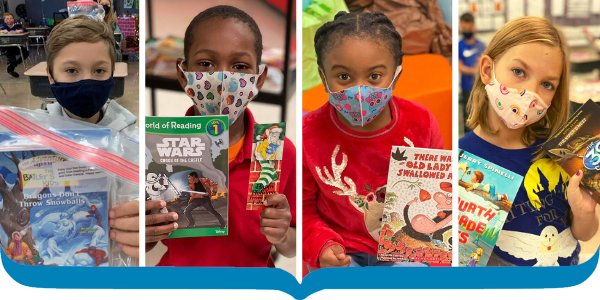 Reading Is Fundamental is ready to kick off the new year with even more books for more children! As we wrapped up a challenging 2020, RIF found new and innovative ways to put books in the hands of kids across the U.S. And thanks to you, we exceeded our end-of-year fundraising goal and we'll be able to support even more children in building their home libraries in 2021. RIF is looking forward to partnering with caregivers, volunteers, community partners and others to ensure every child has books and the opportunities reading provides.

Honoring Martin Luther King Jr.
In honor of Martin Luther King Jr., we're celebrating his life and legacy in bringing healing and hope to America. He embodied the values of leadership, courage, truth, justice, compassion and service, which are all great values to spark discussions with young readers. Discuss ways to contribute to the community near and far and take some time to appreciate those, like Martin Luther King Jr., who inspired others to serve and sacrifice. Inspire the young readers in your life with books and activities in our Martin Luther King Jr. Book Collection.

*These are suggested titles with resources in Literacy Central and may not be available in the RIF Bookstore as our inventory is subject to change.

Miss Louisiana Teen Chooses RIF for Charity
As the National American Miss Louisiana Teen for 2020, Vivien Poche didn't hesitate in choosing Reading Is Fundamental for her fundraising platform. "I'm a big believer in the power of reading," said the native New Orleanian. "As one of the youngest students in my grade level, I used to struggle to keep up with the rest of my peers. However, by developing my reading skills and spending much of my spare time with books, I found that my overall focus and performance in school significantly increased over the years. Through my involvement with RIF, I hope to instill the same love of reading in future generations."
In addition to creating an online fundraiser on her Facebook page which exceeded its financial goal, Vivien also held a book drive for which she collected more than 200 books for readers of all ages that were donated to the Friends of the Jefferson Public Library in her hometown. The Louisiana State University freshman hopes to continue her work with National American Miss and RIF in the spring of 2021.

Opportunity to Receive Free Digital News Magazine
RIF and The Week Junior have partnered up this New Year to provide 6 free digital issues to educators and families with children in grades 4 through 8. Each 32-page digital issue is packed with news, science, animals, nature, sports, entertainment, and more, designed to capture and hold attention while fostering a lifetime love of learning. Educators will also have access to lesson plans that complement each digital issue. Sign up today through January 17, 2021 to receive your 6 free digital magazines

Catch Up with RIF's Latest Blogs
RIF's Race, Equity, Inclusion (REI) Update: Read RIF's President and CEO, Alicia Levi's recent blog on our new REI National Advisory Board and other initiative news.
Overcoming Adversity: Check our our guest blog by Ivy Claire, author of newly released title Epoca: The River of Sand, a series created by Kobe Bryant.


Thank You for Supporting RIF
Thanks to you and thousands of fellow supporters, we exceeded our $50,000 End-of-Year Fundraising Goal and will be able to provide thousands of children with their first book, help rebuild libraries in local communities, open up a world of possibilities to a bright future and so much more. Thank you for making our work possible!

Tell Us Your Story
We see the positive impact of Reading Is Fundamental through the stories you provide and we love to hear from you. We want to hear how RIF has impacted you or a child in your life. Please email your story and photos to us. Thank you in advance for sharing!


Reading Is Fundamental is proud to partner with Macy's. To regularly receive these communications, please sign up on Literacy Central and be added to our list!
Share us on your social media platforms!