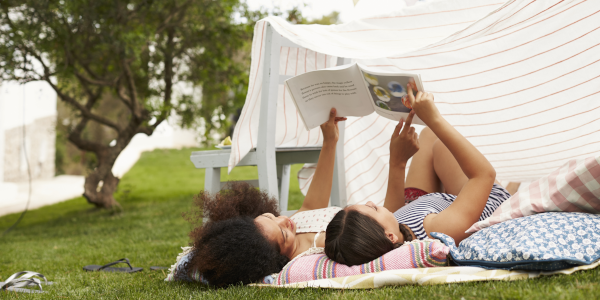 During the summer, we know how important it is to make reading an everyday part of summer fun. When school ends, students turn their attention to outdoor activities and vacation plans, but reading shouldn't drop out of the picture! It's critically important that we support reading motivation all summer long with fun and engaging books and reading activities so children can continue to learn and grow even when school's out.
In this newsletter, you'll find RIF's favorite summer reads and activities to inspire reading for all children and to support educators and families to create an ongoing culture of literacy.

Summer Reading Books and Activities
Summer is full of fun under the sun – BBQs, beach trips and books! Visit RIF's Soar into Summer Reading destination to dive into a summer of reading possibilities. You'll be able to explore RIF's curated support for Grades K-2 and Grades 3-5 including booklists and activities, as well as ideas for starting a summer book club, tips to integrate reading into everyday activities, read-aloud guides, and more.
Share RIF's resources with a child in your life today and set them on a path for success for their return to school this fall!
Be sure to opt-in to receive a weekly literacy tip or activity to encourage your child or students to read this summer. Text the word "RIFREAD" to (877) 379-5018 and enjoy a fun literacy tip or activity to promote weekly reading.

Join the Race to 500,000 Books
Now through the end of July, 10-year-old Orion Jean is partnering with RIF and other literary organizations across the country this summer to increase awareness about the lack of equity in book ownership in children while continuing to emphasize the importance of being kind in his new campaign Race to 500,000 Books. Learn more about his past Race to Kindness work and get involved today!


Catch Up with RIF's Latest Blogs
Read how to combat the "summer slide" by keeping the children in your life reading and thriving all summer long in RIF's newest blog post by Alicia Levi, President & CEO.

Read with Florida Power & Light Company
RIF is excited to partner with Florida Power & Light Company (FPL) to bring amazing new read-aloud videos to engage and inspire young readers across the nation. These read-alouds are extra special because they were created from FPL and NextEra Energy, Inc. employees who volunteered their time to create this library of hundreds of new videos. RIF and FPL invite you to explore these videos and share in school and at home.

Together, We Can Beat the Summer Slide!
The "Summer Slide" is upon us – and children are at risk of losing 2-3 months of reading skills. The best way to beat it? Get books into the hands of more children who don't have many at home. Help prevent summer learning loss by donating to RIF now.

Tell Us Your Story
We see the positive impact of Reading Is Fundamental through the stories you provide and we love to hear from you. We want to hear how RIF has impacted you or a child in your life. Please email your story and photos to us. Thank you in advance for sharing!


Reading Is Fundamental is proud to partner with Macy's. To regularly receive these communications, please sign up on Literacy Central and be added to our list!
Share us on your social media platforms!