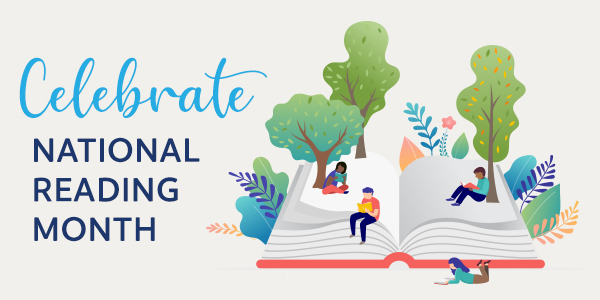 March is National Reading Month! RIF celebrates the love of reading all year round, but March is a great opportunity to do something a little extra. Whether you're an educator, caregiver, or literacy advocate, we encourage you to explore all of the resources RIF offers to discover new and innovative ways to encourage and motivate the young readers in your life this month.
Looking for new ways to encourage reading? Text the word RIFREAD to 1-877-379-5018 and receive a daily text every day during the month of March with tips and activities to help children foster a love of reading! For more information and resources to celebrate National Reading Month with RIF, visit RIF.org/NRM.

COVID-19 Impact on Children's Literacy
RIF surveyed nearly 1,000 educators, parents, and caregivers to understand their concerns around the impacts of COVID-19 on children's literacy development. The implications of the COVID-19 pandemic are far-reaching and the learning losses students are experiencing are alarming. RIF is committed to using these survey results and input to provide meaningful support to our RIF community. Take a few minutes to read the full report.

Catch Up with RIF's Latest Blogs
This National Reading Month, RIF President & CEO Alicia Levi reflects on reading. Read her blog post.
For 16 years, RIF and Dollar General have worked together to provide critical books and literacy resources in their local communities. Read how our partnership has impacted more than 1.5 million children in this anniversary blog post.


Nearly 94% of respondents to our recent survey said it is important or highly important to get print books in the hands of children right now. Please help us address the immediate need to distribute books to children when they are most critical.

LeVar Burton and LA LOOP Give Back
In honor of National Reading Month, we are thrilled to highlight our friend and longtime literacy champion, LeVar Burton. This March, LeVar is donating 100% of his proceeds from the LeVar Burton Signature Series LA LOOP to support Reading Is Fundamental, and LA LOOP will be donating 3 books to RIF for every purchase of the product. We are tremendously grateful for this generosity and continue to be inspired by LeVar's passion for fostering a love for reading in every child. Check out this link to learn how you can get involved.


The Kindness Squad Organizes Literacy Day
Ms. Jenifer Walker, a 4th grade teacher in Jacksonville, FL, and her class are a proud RIF program site. She and her students have formed a Kindness Squad, a group that does random acts of kindness each month for people in need in the community. She writes, "This has been a deeply rewarding experience for my students, and shows them that empathy, compassion, and love can begin to heal the hate and division in this world." The Kindness Squad is hosting a "Literacy Day," this spring where children in need can participate in crafts, activities, and literacy centers. These students know that books are powerful tools for positive impact!


March is Women's History Month
Let's celebrate the contributions of women across every facet of our society in honor of Women's History Month. Women have changed the world in countless ways. From civil servants and leaders to caregivers and athletes, these stories from our Women's History Month Collection shine a spotlight on an amazing group of women.

*These are suggested titles with resources in Literacy Central and may not be available in the RIF Bookstore as our inventory is subject to change.

Tell Us Your Story
We see the positive impact of Reading Is Fundamental through the stories you provide and we love to hear from you. We want to hear how RIF has impacted you or a child in your life. Please email your story and photos to us. Thank you in advance for sharing!


Reading Is Fundamental is proud to partner with Macy's. To regularly receive these communications, please sign up on Literacy Central and be added to our list!
Share us on your social media platforms!