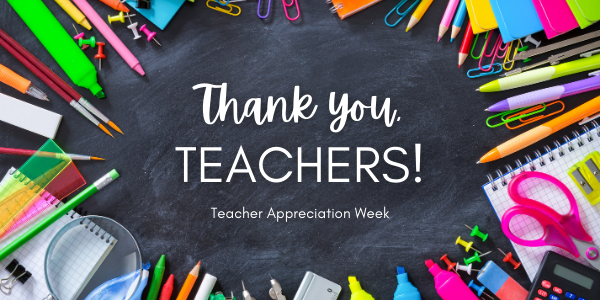 We're kicking off May with Teacher Appreciation Week! This week, and every week, RIF appreciates the hard work and contributions of teachers inside and outside the classroom and everything you do to help students become accomplished readers! We recognize how challenging (and rewarding) your work is and hope RIF has been able to support you this year.
Join RIF in celebrating Teacher Appreciation Week and check out all the great book recommendtations and activities we have to support our teachers this month!

May is AAPI Heritage Month
As our nation combats violence against the Asian American and Pacific Islander (AAPI) community, we encourage everyone to leverage books as important tools to teach children about race, equity, diversity and inclusion. Let's support the AAPI community this month by exploring RIF's collection of fiction and nonfiction books that honor AAPI history, people, authors, traditions, and culture. Be sure to also pair each book with a fun activity, game, or lesson plan to expand learning this month.
*These are suggested titles with resources in Literacy Central and may not be available in the RIF Bookstore as our inventory is subject to change.

Looking for another way to get involved with AAPI Heritage Month? Consider donating a diverse book to the children RIF serves using RIF's Amazon Wist List.

Make a Gift in Honor of a Teacher
Looking for a great way to show a teacher you appreciate them during Teacher Appreciation Week? Make a gift in honor of a teacher in your life today. Your donation will help us serve thousands of RIF teachers nationwide, and get books into the hands of the children they serve.

Today is National Astronaut Day!
May 5 is National Astronaut Day - a day to celebrate astronauts as heroes who inspire us to reach for the stars by learning the incredible stories, experiences, and perspective of astronauts. Inspire the young readers in your life with this special Author Q & A from the author of Astronaut's ZOOM!: An Astronaut Alphabet, Deborah Lee Rose. Be sure to check out the additional reading activities for this book in Literacy Central below.


Join the Race to 500,000 Books
After being selected as the 2020 National Kindness Speech Contest Winner, 10-year-old Orion Jean set out on a mission to spread kindness throughout the world with his "Race to Kindness" initiatives. Orion's past projects included providing 619 toys to a local children's hospital with his "Race to 500 Toys," and collecting over 100,000 meals for people in need with his "Race to 100,000 Meals." Now Orion is partnering with RIF and other literary organizations across the country this summer to increase awareness about the lack of equity in book ownership in children while continuing to emphasize the importance of being kind in his new campaign Race to 500,000 Books. Learn more about his past work and get involved today with Race to 500,000 Books.


Catch Up with RIF's Latest Blogs & Podcasts
Listen to RIF's President and CEO, Alicia Levi, share her insights in a recent podcast interview with End Book Deserts.
Learn about free tools to help you identify and share more diverse books with the children in your life by reading a guest blog from our friends at Diverse BookFinder.

Tell Us Your Story
We see the positive impact of Reading Is Fundamental through the stories you provide and we love to hear from you. We want to hear how RIF has impacted you or a child in your life. Please email your story and photos to us. Thank you in advance for sharing!


Reading Is Fundamental is proud to partner with Macy's. To regularly receive these communications, please sign up on Literacy Central and be added to our list!
Share us on your social media platforms!