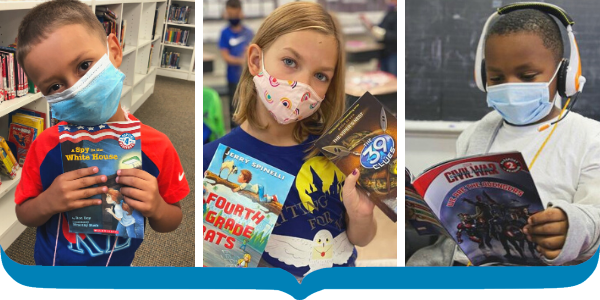 With Thanksgiving right around the corner, it's time to get into the spirit of gratitude and giving back. This has certainly been a year like no other, but at RIF, we are so thankful for the continued opportunities we've had to provide children with books and literacy resources every day and the new partnerships we've made, especially during the challenges of 2020. Gobble up our November news and read about what we've been thankful for this year.

Honoring Native American Heritage Month
November is Native American Heritage Month and we are highlighting our special book collection. Explore beautiful stories that celebrate the diverse and rich culture, language, history and traditions of Native Americans and download the supplemental reading activities, such as puzzles, extension activities and educator guides.

*These are suggested titles with resources in Literacy Central and may not be available in the RIF Bookstore as our inventory is subject to change.



History Books Children Will Love
RIF has partnered with The White House Historical Association (WHHA) this fall to inspire children who love learning about history. As we wait patiently for the results, it's a great time to teach children about our country's past leaders and how they chose to spend their free time. Watch the read-aloud video WHHA's book Presidents Play! and find out which past president shared your favorite sport, game, or exercise.

Kind Words from C. E. King Middle School
Linda Yantis is the librarian at C. E. King Middle School in Houston, Texas. RIF supported her school in the aftermath of Hurricane Harvey and more recently, she was the recipient of an award through RIF's Matching Grant Program. Linda recently shared, "From rebuilding our library from scratch after Harvey, to donating a thousand books for our stay-at-home students during the pandemic, RIF has been a constant source of support and help. Students will read when given interesting, entertaining books, and that reading skill will help them in every other subject. We, the students, faculty, and myself appreciate our library, our books, and everything else RIF has helped us with. Thank you!" And thank you to dedicated educators like Linda!


eBook Learning for Thanksgiving Break
Keep children learning over Thanksgiving break with our collection of National Geographic Kids books in Skybrary, RIF's eBook subscription service. These narrated picture books educate children about the diverse world we live in. Learn about the life cycle of a pumpkin in a fun and creative way in our November favorite Seed, Sprout, Pumpkin, Pie. Sign in or start your 30 day free trial today!

Our Favorite Thanksgiving Books
Thanksgiving is a wonderful time to feast on delicious food, watch football games and parades, and gear up for December's festivities. It's also a good opportunity to remind children to say "thank you" -- not just because it's good manners but to cultivate a sense of gratitude. Explore RIF's Thanksgiving Book Collection so children can recognize everything they have to be thankful for this Thanksgiving.


Tell Us Your Story
We see the positive impact of Reading Is Fundamental through the stories you provide and we love to hear from you. We want to hear how RIF has impacted you or a child in your life. Please email your story and photos to us. Thank you in advance for sharing!


This eNewsletter is available thanks in part to the generous support of Macy's. To regularly receive these communications, please sign up on Literacy Central and be added to our list!
Share us on your social media platforms!