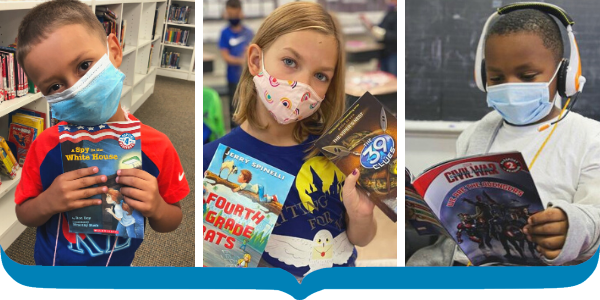 November can be a time of reflection as we consider big and small things that we are grateful for in our lives. For many, there are big things like being able to get together this year with friends and family and smaller things like seeing a child's eyes light up when you snuggle together with a favorite story. At Reading Is Fundamental, we are grateful to our valued partners and donors that enable us to continue to deliver thousands of books to children across the nation. We are also grateful to our vast network of volunteers that share in our vision and make our work possible. Gobble up our November news and read about more things we're thankful for this month.

An Abundance of Thanksgiving Books
Thanksgiving is a wonderful time to feast on delicious food, watch football games and parades, and gear up for December's festivities. It's also a good opportunity to remind children to say "thank you" --not just because it's good manners but to cultivate a sense of gratitude. Explore RIF's Thanksgiving Book Collection so children can recognize everything they have to be thankful for this Thanksgiving.


Make Plans to Double Your Literacy Impact
RIF's Matching Grant program is coming back! In early 2022, RIF will be accepting applications to our matching grant program where we can double your literacy impact. The Matching Grant program will enable RIF to match dollar for dollar your local budget to bring RIF programs to the children you serve. Applications will be accepted for RIF's Books for Ownership, Read for Success, and Skybrary programs. Learn more about RIF's programs to find the best fit and prepare your matching funds. More details on the grant application process and timing will be announced next month.



Empowering Kids through Books
A Kids Company About is a kids media company that believes kids are ready to talk about challenging, empowering, and important topics that matter. The company uses diverse storytelling to make books, classes, and podcasts that kick-start conversations between kids and their grownups. RIF is thrilled to partner with A Kids Company About on several initiatives:
Read along with several A Kids Company About authors' diverse and engaging stories aligned with the monthly themes of our Rally to Read initiative. Visit Rally to Read today!
And winners of the Rally to Read book giveaway sweepstakes may receive some A Kids Company About titles generously donated by our friends!
We are honored to have featured A Kids Company About's COO, Stephen Green, in a webinar discussion on diverse books as part of our Race, Equity, and Inclusion initiative. View here.
We're excited that our good friend and literacy champion LeVar Burton has joined the line-up of A Kids Company About authors with his latest book A Kids Book About Imagination! We'll be distributing 50 generously donated copies to RIF kids and invite everyone to check it out.
A big thanks to our friends at A Kids Company About for helping us to empower kids, one book and story at a time.


RIF's Rally to Read 100 Theme: Family
As the Thanksgiving holiday approaches, it is the perfect time to celebrate friends and family. That's why we are excited that RIF's Rally to Read 100 theme for November is family. We could not be more thrilled that our featured read-aloud guest is the recently announced winner of the 2021 NSK Neustadt Prize for Children's Literature, Cynthia Leitich Smith reading her book, Jingle Dancer. The book offers a gentle narrative that emphasizes the importance of familial and communal bonds as the main character, Jenna is determined to dance at an upcoming powwow, despite not having a dress with jingles. Explore more reading resources, take the pledge to read 100 books, and enter our educator book sweepstakes at Rally to Read.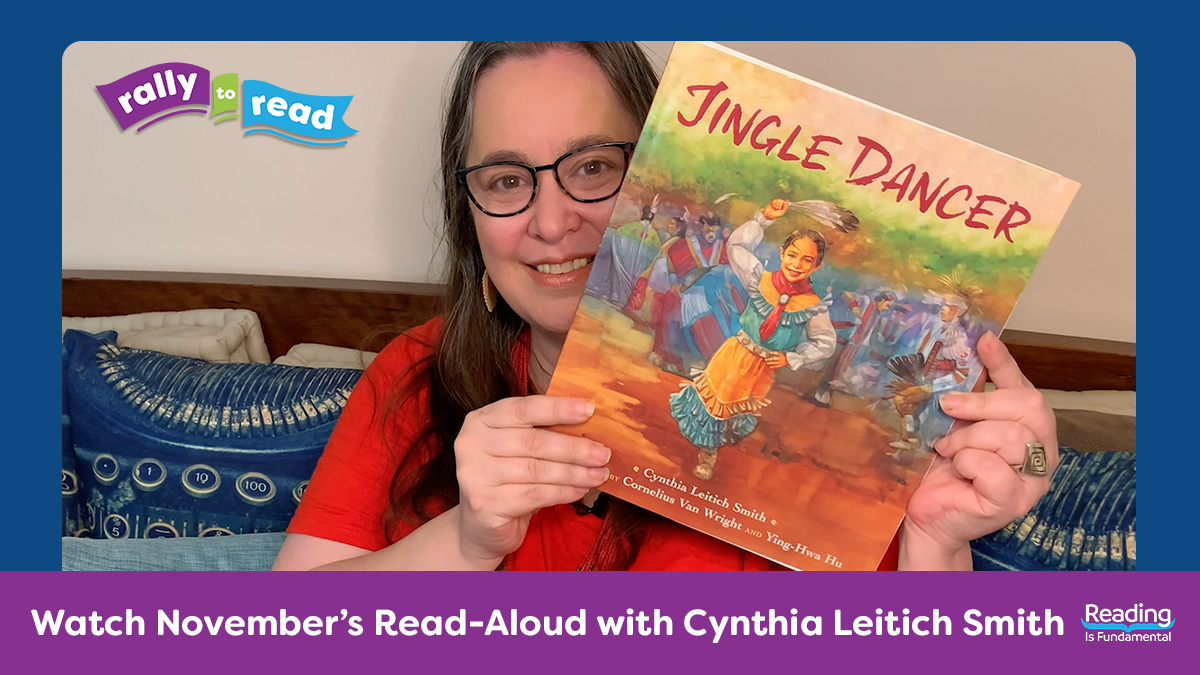 COVID Relief Funds for Literacy Recovery with RIF
The administration has made significant investments in educational equity and COVID relief through the American Rescue Plan (ARP). As these federal funds continue to be distributed to school districts, RIF wants to ensure that district decision-makers are aware that these funds can be used to bring RIF books and literacy resources to your schools. Learn more about RIF's programs or have your district leadership contact our support team directly to find the program that best fits your district's literacy needs. Contact the RIF team today at LiteracyNetwork@RIF.org

Race, Equity & Inclusion Highlights
Books are one of the most important tools to teach children about race, equity, diversity, and inclusion. For November and Native American Heritage Month, we are highlighting My Heart Fills With Happiness, a modern story of Indigenous children and families reflecting on what makes them happy. Check out this book and others that focus on diversity in RIF's Diversity, Equity and Inclusion Book Collection.
RIF, through the generous support of Macy's, recently held a two-part webinar series discussing the wide variety and beauty of diverse books and the deep value of including them both in the classroom and at home as well as how to incorporate them into everyday use. We hope you will explore this webinar series.


Tell Us Your Story
We see the positive impact of Reading Is Fundamental through the stories you provide and we love to hear from you. We want to hear how RIF has impacted you or a child in your life. Please email your story and photos to us. Thank you in advance for sharing!


Reading Is Fundamental is proud to partner with Macy's. To regularly receive these communications, please sign up on Literacy Central and be added to our list!
Share us on your social media platforms!