Fall is here! RIF is looking forward to chilly nights, crispy autumn leaves, warm pajamas, hot chocolate and lots of books to read. Read through our October eNewsletter and find lots of wonderful, autumn-themed book recommendations and activities that will help the young readers in your life fall in love with reading.

Celebrate Hispanic Culture and Heritage
Hispanic Heritage Month is celebrated September 15th - October 15th each year and children's books are one of the most important tools to engage children throughout the month and teach them about race, equity, diversity and inclusion while celebrating rich Hispanic culture and history. Children's books can act like both mirrors and windows -- mirrors in that they can reflect on children's own lives, and windows in that they can give children a chance to learn about someone else's life. Browse RIF's Hispanic Heritage Month Book Collection with supporting reading activities and help children learn about themselves and others to celebrate Hispanic culture and heritage.


RIF's Race, Equity & Inclusion Webinars
Join RIF for our two-part National Reading Coalition webinar series on Race, Equity and Inclusion (REI). This webinar series for educators and families of elementary-aged students will explore diverse books in children's literature and everyday use of them in schools and at home. This virtual discussion series will bring together expert moderators and panelists to share their insights into the importance of sharing and exploring diverse books with children. Both webinars will feature a closing read-aloud showcasing a favorite diverse title and when you register to attend, you will automatically be entered into a drawing to win a 1-year subscription to Skybrary, RIF's digital library of nearly 1,000 eBooks.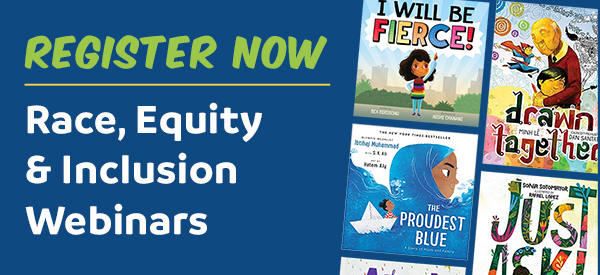 Rally to Read with RIF in October
RIF is excited that the Rally to Read 100 theme for October is nature! And, we could not be more thrilled that our featured October read-aloud is Philippe Cousteau reading his book, Follow the Moon Home. Join this author, explorer, and environmental advocate as he reads his book about the powerful difference young people can make in the world. Philippe will introduce us to his main character Viv, who helps bring together a whole community to save the sea turtles of the South Carolina coast.

Road Trip with U.S. Department of Education
RIF was delighted to join The U.S. Department of Education's Return-to-School Road Trip. We partnered with our friends Focus: HOPE for a very special family literacy celebration for families in Detroit. We were thrilled to collaborate to shine a spotlight on children's literacy. Local families enjoyed Secretary Miguel Cardona's read-aloud of Your Name Is A Song, and each child was able to pick out books to build their home libraries too!


Catch Up with RIF's Latest Blogs and Podcasts
In a wide-ranging conversation about literacy and education, RIF President and CEO, Alicia Levi, joins Trending in Education's latest podcast epidsode to discuss the critical importance of reading.
Read how Rally to Read's promotional partner and our friends at National Parent Teacher Association empower all children through inclusive children's books and inspire family reading in this special guest blog.
Read in this guest blog how our friends at Governor's Early Literacy Foundation and Ready4K have teamed up to use a multifaceted approach to support young readers and engage parents in preparation for Kindergarten.

Trick-or-Treat and Books!
From the super-spooky to the not-so-terrifying, RIF has compiled Halloween's most frightfully fantastic books that are a real treat for children! View the collection in Literacy Central and share the reading activities paired with each book -- a perfect treat for young readers to get in the spirit this season!


Help Kids Fall in Love with Reading
The ability to read is one of the greatest gifts a child can receive and the first time a child chooses a book of their own can be a turning point that sets them on a path to growth and opportunity. Nearly 25 million children lack the necessary literacy skills to succeed, but when a child learns to read, his or her opportunities in life are endless. Change a child's life, enable them to fall in love with reading, and donate today!

Tell Us Your Story
We see the positive impact of Reading Is Fundamental through the stories you provide and we love to hear from you. We want to hear how RIF has impacted you or a child in your life. Please email your story and photos to us. Thank you in advance for sharing!


Reading Is Fundamental is proud to partner with Macy's. To regularly receive these communications, please sign up on Literacy Central and be added to our list!
Share us on your social media platforms!