There are many reasons to celebrate reading this September -- it's National Literacy Month, children are back in school with lots of reading opportunities, and on September 8, literacy is celebrated worldwide during International Literacy Day. Find new and creative ways in this month's newsletter to recognize these reading milestones and inspire a love of reading in the classroom and beyond.

Celebrate International Literacy Day with Skybrary
International Literacy Day is celebrated worldwide every year on September 8 to remind the public about the importance of literacy in our lives. This year's theme will focus on the important role educators have in ensuring students continue to read and develop literacy skills during the challenges created by COVID-19.
To support educators across the nation, Reading Is Fundamental has created new resources to keep children engaged in reading at home and during distance learning. In addition, RIF has offered a free trial to Skybrary, a digital library of nearly 1,000 children's eBooks and real world video field trips. Over the last six months, over 740,000 books were read which translates into approximately 2.2 million hours of reading! That's incredible and RIF is thrilled to continue to make this digital eBook resource available!
To celebrate International Literacy Day, sign up for your free Skybrary 30 day trial. Let's continue encouraging children to keep reading in and outside the classroom.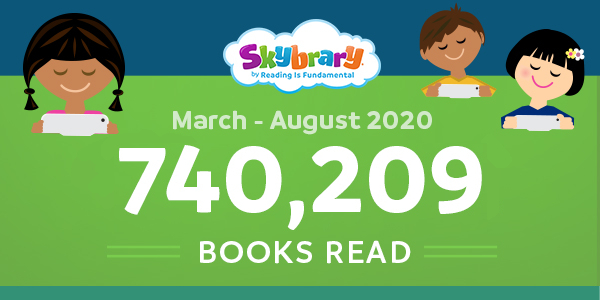 Until Every Child Reads
The power of reading is clear and no child should grow up without knowing how to read. That's why Until Every Child Reads is Reading Is Fundamental's new campaign to inspire and engage communities, companies, literacy advocates, and individuals to join in our efforts to address the literacy crisis in America. Click the button to learn more about how you can help raise awareness, provide access to books and reading resources, and do your part in creating a future where every child can read and thrive.

Journey Back in Time with McDonald's and RIF
Family togetherness is so important during these uncertain times. In celebration of National Literacy Month, McDonald's is inviting families to celebrate the joy of reading with Reading Is Fundamental beyond the classroom. Now through September 15th, every Happy Meal will include dinosaur-themed books to help inspire children to learn about dinosaurs AND get excited about reading. In addition, McDonald's is donating 100,000 Happy Meal books to RIF program sites across the country. Young readers can travel back in time with RIF's collection of dinosaur games and puzzles for each book.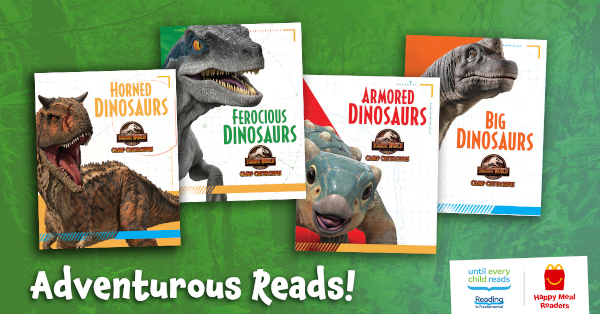 Reading Resources for Beyond the Classroom
Educators can help children develop an enthusiam for reading, but it's just as important for a child's home environment to also support their literacy development. Exposing children to different books, puzzles and reading activities reinforces the skills gained in school. RIF has compiled some favorite hands-on activities, recommended book lists, and guides to support parents and caregivers in encouraging reading at home. This collection is found on our free reading resource website, Literacy Central.

Support RIF's Back-to-School Drive
Join RIF's efforts to ensure that more children in America have the opportunity to read and succeed. Every donation can help put books and reading resources into the hands of children as they return to school. Help children unlock their full potential through the life-changing power of reading, donate today.


We Need Your Input
RIF is redesigning our signature tote bag and we're asking you to vote for your new favorite. Please keep an eye out for an email soon with more details.

Tell Us Your Story
We see the positive impact of Reading Is Fundamental through the stories you provide and we love to hear from you. We want to hear how RIF has impacted you. Please email your story to us. Thank you in advance for sharing!